Łabędzi Ostrów [Swan Islet] heartily encourages everyone to organize wedding receptions in the Masurian Lake District.
Wedding reception in the Masurian District in Piękna Góra near Giżycko – this is a proposal for all the couples who dream about spending this exceptional event in their lives in the natural setting, secluded and hidden among Masurian forests and lakes. Wedding receptions in the holiday centre "Łabędzi Ostrów" [Swan Islet] combine elegance and comfort with a unique impression of a place lost among Masurian wilderness.
"Łabędzi Ostrów" [Swan Islet] is located only 3.5 km from Giżycko, 100 km from Olsztyn and 260 km from Warsaw.
One of its main advantages is an exceptional location on a picturesque peninsula, with one of the most beautiful observation decks in this part of the Masurian District as well as the exquisite and rich menu.
All persons who value contact with nature may be convinced that there is nothing more beautiful than starting their life together with their "other half" in a place away from civilization hubbub, among the peaceful surroundings and breath-taking views – in the Centre "Łabędzi Ostrów" [Swan Islet].
Wedding offer
Preparing a wedding reception takes a lot of time, starting from flowers, decorating banquet room, arranging the musical setting – ending with individual selection of the wedding menu – we will help you organize all the details of the reception so that you could celebrate this unique event.
Our offer includes arrangement of the wedding reception, accommodation and wedding after-party that we may prepare depending on your ideas and needs: in the Main Wedding Room, at the Sailor's Club, in a barbecue shed on the lake or on a boat.
Reception venue:
Main Wedding Room: all-year-round we propose you arrangement of the reception party in the tasteful and spacious banquet rom. The room may accommodate up to 120 persons and has a dance floor.
 MENU PRICE INCLUDES:
Elegant wedding room together with ceremonially decorated and laid tables:
Romantic room for the Bride and Groom on their wedding night;
Promotional prices of accommodation for the Wedding Guests;
Free parking lot for the Guests.
 We heartily encourage you to learn more about our menu proposals: more »
WE HEARTILY ENCOURAGE YOU TO USE ADDITIONAL SERVICES WE OFFER
Floral decorations of wedding tables and banquet room;
Arrival of the newlyweds to our port in a motor boat;
Boat cruise for the Wedding Guests;
Firework display;
Arranging a bonfire;
Additional exquisite dishes: roasted leg, Masurian fish from our smokehouse, roasted pig, so called "farmer's table" with local delicacies;
Barman services during the wedding reception – "open bar";
Wedding after-party in the form of a barbecue, with bonfire and dancing in the barbecue shed.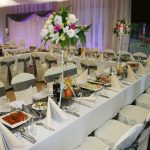 Additionally we propose to make your wedding party last the whole weekend in the Masurian District and became an unforgettable experience and a beautiful memory for many years. Already one day before the planned wedding date – Bride and Groom together with their family and friends may meet on an official dinner, supper or barbecue. We will tailor our menu to any needs of our Guests.
Accomodation Offer
We warmly encourage you to use the accommodation offer of our Holiday Centre "Łabędzi Ostrów" [Swan Islet]. Specifically for the wedding guests we have prepared attractive accommodation prices. We offer to your disposal our cabins and rooms that may accommodate 120 guests.
WEDDING AFTER-PARTY
We propose to organize this relaxing day for the wedding after-party, in the peaceful and natural setting, in one of the following forms:
Buffet breakfast;
Buffet or served dinner;
Bonfire/barbecue in the barbecue shed on Kisajno Lake.
WEDDING PROMOTIONS – Wedding package
We heartily encourage you to use the offer that includes arrangement of the wedding reception, accommodation and breakfast for all your Wedding guests. From November to April we propose very attractive wedding package price (wedding reception + accommodation) – already from PLN 260/person.
If you want to learn more please contact us:
Gallery